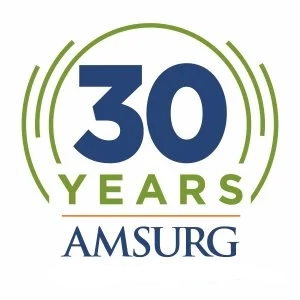 AMSURG launched in 1992 as a pioneer in the ambulatory surgery center industry, originating a physician partnership model that endures today. Our original focus was endoscopy centers, but we quickly expanded to include ophthalmology, orthopedic and multi-specialty centers. Today, AMSURG is an industry innovator, advocate, and source for patients to find quality care in their communities.
AMSURG has grown from six partner physician groups in 1992 into a network of nearly 2,000 partner physicians at more than 255 facilities in 34 states and the District of Columbia. But our mission has never changed – to provide quality care when and where it's needed most, providing enhanced access to services that improve and lengthen life.
Over the past three decades, AMSURG partner physicians have performed more than 25 million procedures across multiple specialties. What began with endoscopies has evolved to incorporate everything from eye care and pain management to the latest in orthopedic care, including total joint replacements – all in a same-day outpatient setting.
One of our proudest achievements came a dozen years ago when we launched StopColonCancerNow, a network of gastroenterologists that spans 32 states and the District of Columbia. Through their work with patients and public awareness and education campaigns, these clinicians combat the second deadliest form of cancer, colon cancer. AMSURG itself is a nation's leading operator of GI endoscopy centers, and we provide cutting-edge research with Mount Sinai Health Systems and other partners to reduce health disparities and encourage more Americans to get screened for colon cancer earlier.
Advocacy and education are integral to how we serve patients. In 2012, we launched YourSightMatters, a campaign to raise awareness about cataracts and eye health. Today this coalition represents 300 ophthalmologists, optometrists, nurses, and staff at 50 surgery centers.
AMSURG was publicly traded on NASDAQ from 1997 until the merger with Envision Healthcare. Revenues first topped $100 million in 1999. In 2000, AMSURG was named to Forbes' list of Best Small Companies, which features the country's most rapidly growing firms. The growth continued:
By 2002, AMSURG was a partner to 100 surgery centers, and by 2006 we were the largest ASC provider by the number of centers.
In 2007, AMSURG launched a multi-specialty ASC acquisition strategy. Today, we have 58 multi-specialty centers averaging more than 350,000 procedures a year.
By 2008, our partners were performing one million procedures annually.
In 2012, AMSURG established a health system partnership strategy, and today we have 57 centers with health system partners.
That year, we also finalized a partnership with RWJBarnabas Health to offer New Jersey area patients enhanced access to outpatient surgery services.
AMSURG merged with Sheridan Healthcare in 2014 and Envision Healthcare in 2016. That partnership enables us to make care more affordable and accessible to patients, champion wellness, and empower clinicians to improve the health of the communities they serve.