The AMSURG Advantage
We empower leaders at all levels of the organization to deliver a patient-focused, physician-centric experience.
A Trusted Partner
The AMSURG advantage is why physicians and healthcare systems across the country have chosen us as their ambulatory surgery center (ASC) partner. We are a partner you can trust, committed to delivering high rates of satisfaction among physicians and patients.
With a team of experts on everything from clinical quality and facility management to marketing and billing, AMSURG will be by your side to ensure the growth and long-term success of your business.
Superior Clinical Experiences
As a physician, you want to have complete confidence in the quality of care your patients are receiving.
We join you in your commitment to safe, high-quality, patient-centered care. From online training and education to mock surveys and conferences, we will equip and empower your staff to deliver superior experiences for physicians and patients.
Meaningful quality data and reporting
AAAHC surveyors on staff
The latest in evidence-based best practices
A comprehensive training program to improve OAS-CAHPS scores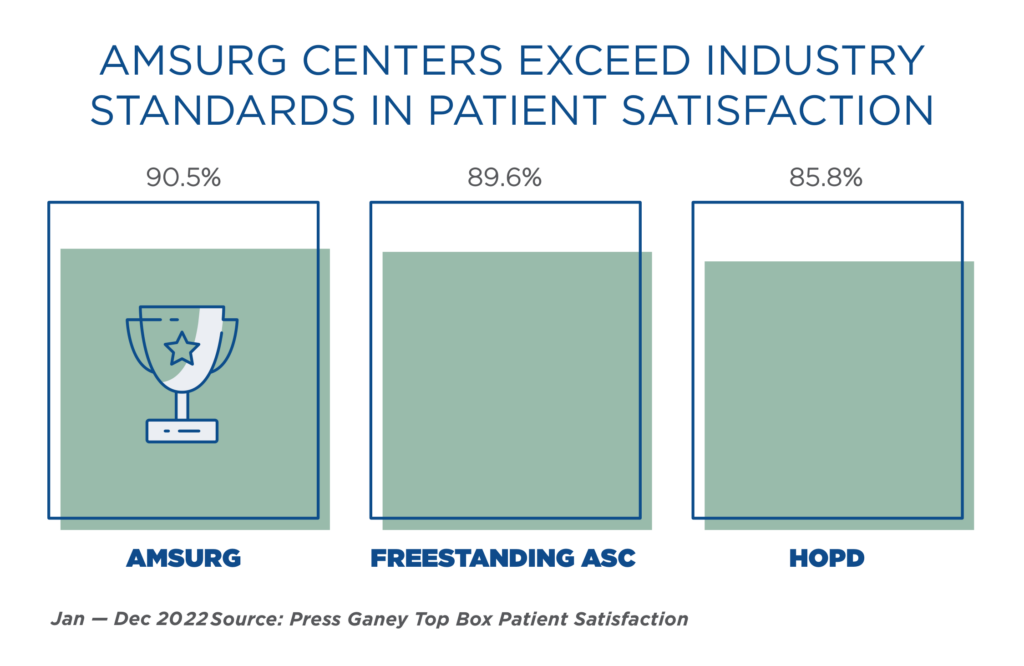 Benefits of Outpatient Surgery | 0:45
A smoother, more pleasant experience and a lower rate of infection are just a couple of the reasons AMSURG physicians prefer to perform procedures at outpatient surgery centers.
Long-Term Financial Opportunity
With rising healthcare costs and increasing regulatory requirements, you need confidence your business will grow, regardless of how healthcare continues to change.
Strategic planning and marketing expertise to help you capture growth opportunities
Ongoing financial reports to provide insight into your center's financial health
Patient Connect is our proprietary solution to build patient relationships and create appointment demand (participating ASCs consistently experience patient recall rates well above the industry average)
Strategic Collaboration
You have built a successful ambulatory surgery center. We can help you to continue on your path to success. AMSURG has been committed to a collaborative governance model for more than 25 years. When you partner with us, you can be confident you will continue to have a voice in key decisions.
Our subject matter expertise covers all areas of ASC management and includes:
Lean process improvement
Contracting expertise
Operational efficiency: staffing, throughput, block scheduling
Revenue management excellence
Improved Operational Efficiency
AMSURG leverages proven best practices to improve operational processes and drive efficiency. Our team will work with you to reduce waste and control costs, allowing you to focus on patient care.
Our best practices cover all areas of center efficiency including:
Patient flow optimization
Facility usage
Superior supply contracting
Inventory management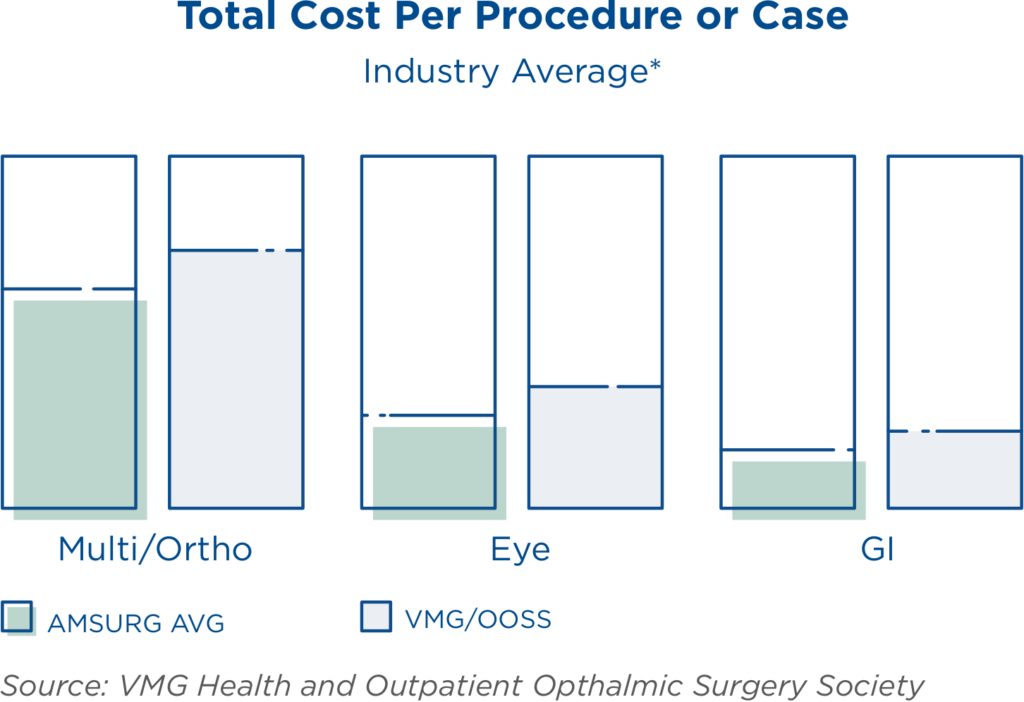 Looking for a Partner?
Surgery Center Partnerships
AMSURG not only established the premier physician partnership model but also continues to deliver innovations in ambulatory surgery center operations. In our traditional partnership with physicians, the surgery center is operated under a consensus management model, with equal representation from the physician partners and AMSURG.
ASC JOINT VENTURE PARTNERSHIPS
AMSURG's more than 25 years of experience provides the operational expertise for successful joint venture surgery center partnerships with hospitals and health systems. AMSURG takes a market-based approach to establishing mutually beneficial three-way joint venture partnerships between health systems or hospitals, physicians and AMSURG.