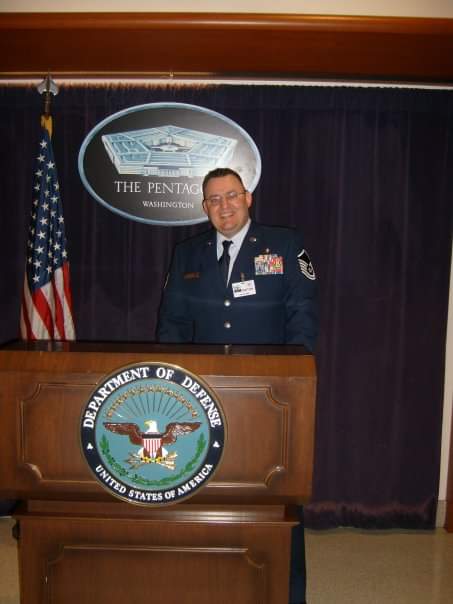 Commitment to the mission is critical for active duty and veteran military, and the military professionals who make up Envision Healthcare are committed to our mission of improving life in our communities one moment at a time. In recognition of their efforts, we are proud to share the stories of some of Envision Healthcare's many talented and dedicated military professionals.
Life as a battlefield medic is not easy, nor are the duties of the role easy to define. Equal parts paramedic, nurse and physician assistant, a medic in the military is highly trained and capable of being deployed to any and all of the most dangerous environments in which soldiers operate. All servicemembers know that when lives are in the balance, there is no better sight than a medic rushing to the scene.
Over the course of his 21-year career as a medic in the U.S. Air Force, Dirk Frantz was deployed to Iraq on three separate occasions. During his time on the battlefield, he relied on his training as a medic to provide aid and save lives in some of the most critical situations imaginable.
"It's hard to compare anything to providing healthcare on the battlefield," Frantz, who retired as a master sergeant, said. "The wounds you encounter on the battlefield are so varied, but they are trauma of the highest level. But what you learn in the military is that you have responsibilities; you know what is expected of you, and you know what your duty is, so you rely on the discipline they teach you to provide the same level of care to everyone you encounter."
Now as Manager Clinical Practice, for Questcare Medical Clinics, an affiliate of Envision Physician Services, life is different for Frantz. No longer deployed to some of the world's most dangerous conflicts, he devotes his time to ensuring Envision's providers offer quality care to the communities in which they serve.
"I'm basically a practice manager, but I wear a lot of different hats: I'm a clinical educator, I pay all of the bills for our 16 clinics, and I serve as director of day-to-day operations, so I'm the guy they come to if anything breaks."
German-Born, American-Raised
A native of Germany, Frantz immigrated to the U.S. along with his family when he was young. After graduating from high school in Kentucky, Frantz said he saw the military as his path to becoming part of a much bigger world.
"I was always fascinated by the military, and I knew that I didn't want to stay at home in Kentucky," Frantz said. "The military gives you so many options for career paths, and they provide you with the training you need for life after service, so I saw a lot of opportunity [in enlisting]."
Frantz said the Air Force's variety of healthcare career paths caught his attention as he ultimately looked for ways to best prepare himself for life after the military.
"I've been stationed in Italy, Korea, Africa – you name a difficult situation, I've probably served there," Frantz said. "I've served on humanitarian missions in Macedonia during the Kosovo War, and I've treated Cuban and Haitian refugees early in my career at Guantanamo Bay."
"When I first joined the Air Force, my job was as a med technician on an inpatient, multi-service ward," Frantz added. "From there, I transitioned to an emergency room for several years before working in a family practice and being put in leadership positions."
Leadership is expected from every servicemember, a trait that Frantz says sets clinicians with military experience apart in the civilian world.
"The military teaches you that you put duty before self and there is no such thing as 'I don't think I'm going to do that today.' In peace or in war, you have duties, and everything you do is as much for your patients as it is for your fellow airmen or soldiers. When servicemembers transition into the civilian world, many of us keep that same mentality that people are counting on us to do the things that need to be done."
How Envision Empowers Him
Envision Healthcare respects the experience of servicemembers and values the unique training and qualities they possess. It's that level of trust, Frantz said, that has impressed him as he has grown into a leadership role within the company.
"What I really appreciate as former military is that Envision empowers me and trusts me to do my job and do my duty," Frantz said. "In the military, they empower you to make important decisions in war or peace, and Envision has given me that same level of trust and respect."
In the military, concepts like training and ensuring both personnel and equipment safety are critical to the mission. Frantz said Envision holds those same values, and that they trust him as a manager to ensure they are core to everything he does – something he said is appealing to servicemembers looking for a familiar environment as they transition into civilian healthcare.
"I've opened three clinics within the last six weeks. That has been a lot of work for me, but my leadership has trusted me to put my head down and figure things out," Frantz said. "[Envision] trusted me to get the job done, and they've promoted me because of that work. I appreciate the confidence they've shown in me."
Right Place, Right Time
Preparing to enjoy a quiet afternoon with his girlfriend, Frantz instead encountered a critical situation on the side of an expressway in Plano that demanded his unique skills.
"The first thing I noticed was that a woman had been thrown about 30 yards away from her car, which itself was now overturned in a ditch," Frantz said. "I checked on her and found her unconscious, but with a pulse. No one else who had gathered had medical training, so I took control and told a bystander to stay with her while I went forward to the car."
When Frantz arrived, he found an 18-month-old child in stable condition, but his attention quickly shifted to the second passenger – a four-year-old boy who had been removed from the car and was in critical condition.
"Two bystanders had taken this child from the car's backseat and laid him on the ground, but he had no pulse and was, well, basically dead," Frantz said. "I immediately initiated CPR, and I directed the others around to do various things to assist. After 3-4 minutes, the child took a massive gasp of air, and I was able to get a pulse back.
"Depending on what literature you read, the chances of being able to revive someone in his condition is around 10 percent, so I was absolutely ecstatic."
All three people in the car survived their injuries, Frantz said, a testament to good fortune and his own battlefield medic and CPR instructor training that allowed Frantz to quickly and calmly assess the situation and decisively act under pressure.
"A medic is who I am, and it's what I was trained by the military to be," Frantz said. "The last time I was on a battlefield was 2009, but you don't forget what you need to do to be able to give your patients a chance to survive."