On Jan. 10, the Orthopaedic Surgery Center of Ocala completed a left total hip replacement. It was the center's 100th total joint replacement (TJR) since it started providing them in 2017.
Joseph Locker, M.D., one of the center's two physicians who perform TJRs, led the milestone procedure. The patient did not require pain medication and was able to leave the surgery center on crutches that day after spending two hours in recovery. In his post-operation follow-up, the patient rated the overall experience and the facility as a 10 out of 10.
Shorter Total Joint Replacement Recovery Time Compared to Hospitals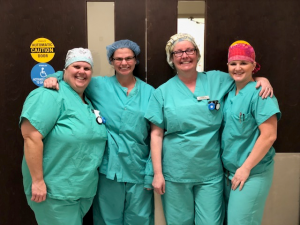 The physicians and staff at Orthopaedic Surgery Center of Ocala are committed to providing safe, high-quality, evidence-based care. As part of the center's patient-centered approach, the team does not administer a spinal nerve block prior to surgery. Instead, they apply local anesthesia to the joint, which results in shorter recovery time and can have patients out the door within two hours after surgery.
Patients' discharge is contingent upon ambulating to a reclining chair after the anesthesia wears off and demonstrating they can walk to their car. Following the surgery, patients are provided at-home physical therapy until the first post-operative appointment one week later. They are then transitioned to outpatient physical therapy.
These unique offerings have established Dr. Locker and his colleague, Zakariah Mahmood, M.D., as pre-eminent total joint orthopedic surgeons in the region. The center also relies on the expertise of surgeon Mark Rogers, M.D.
Surgery Center Patient Experience Surpasses Competitors
The staff at the center prides itself on going above and beyond the typical standard of care. The stellar patient experience is one of the many reasons the Orthopaedic Surgery Center of Ocala had a 97 percent patient satisfaction rate from April 2017-April 2018, as determined by Press Ganey's annual patient survey. Little touches such as post-operative food and beverages and a tumbler emblazoned with Orthopaedic Surgery Center of Ocala Total Joint Program set the facility apart.
The Orthopaedic Surgery Center of Ocala opened its doors July 29, 2016. The 10,000-foot facility is certified by Medicare and the Accreditation Association for Ambulatory Health Care and has three operating rooms. It also offers completely private post-operative rooms to ensure patient comfort. While the most common TJR is a hip procedure, the team frequently performs total knee and total shoulder replacements. As more patients seek care in the outpatient setting, the team expects its TJR program to continue growing.